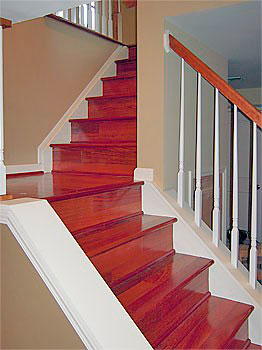 Complex reconstruction of structures is a specialty of Alessio Custom Interiors.
In this case, an old stairway was removed and replaced in a different location. The stair direction was also turned 90 degrees for better flow and access to a lower level. The stair assembly was salvaged without damage and carefully rebuilt.
Alessio also completely rebuilt the structural elements, attending to every detail. First, we had a load engineering analysis completed, as changes to stairway locations affect building loads. Then, we installed the staircase to the highest levels of structural integrity. We also paid special attention to maintaining details and finishes.
The homeowners can rest assured that load issues were taken care of and that the new construction will give a lifetime of service – built better than building codes called for.