Alessio's Wine and Liquor Cabinet a Feature in the Michigan Design Center's 40th Anniversary Party
A custom cabinet was made for this special event as a sample of how a wine cellar can be a piece of fine furniture.
The cabinet was made of oak with a custom blended gray tone stain and glazing finish. It is 50″ wide by 24″ deep and 36″ tall and has diamond bins for two cases of wine plus two roll-out shelves for glasses and liquor bottles.
The furniture was featured in the Detroit News Homestyle section on May 12, 2017.
Writer Maureen Feighan's article stated:
"A handcrafted wine and liquor cabinet by Michael Alessio of Alessio Custom Interiors in Howell was the starting point for Julie Byrne's French vignette in Decoroom (Suite 37), which pays tribute to France's Beaujolais Nouveau Day in France. 'You can make it any size, any color, any style,' says Byrne, running her hand over the oak cabinet. Anchoring the vignette is a Ghiordes Knot rug, on which sits a dining table from Keystone. Two garden stools offer extra seating and a custom-made trellis woven with faux grapevines and twinkle lights gives the space a very French feel. Byrne says she wanted to create a space that feels like it could work indoor or outdoors."
Wine Cellar a Detroit Home Design Award Winner
Detroit Home magazine hosts a yearly design awards competition. The highly-sought-after awards recognize the year's best in many categories.
The 2005 award winner was this wine cellar, crafted by Alessio Custom Interiors.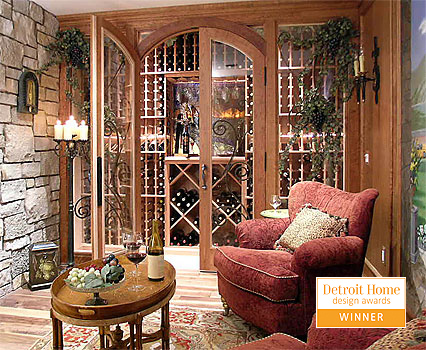 We can make an award-winning wine cellar for you too! Call us today to get started on your dream wine cellar.
Chair for a Charity Auction
This chair made out of snowboard parts was created for the 2012 ASID Winter Chair-ity Auction, which raised money for Turning Point Macomb, a Mount Clemens shelter for women. The auction chairs were also on display at the Novi Home Improvement Show, raising $500 for the charity.

Pool House by Michael Alessio Featured in Jewish News Magazine
Designed by architect Christopher Longe, the pool house for a client in Birmingham features many interesting details. See more images in our Structures page.